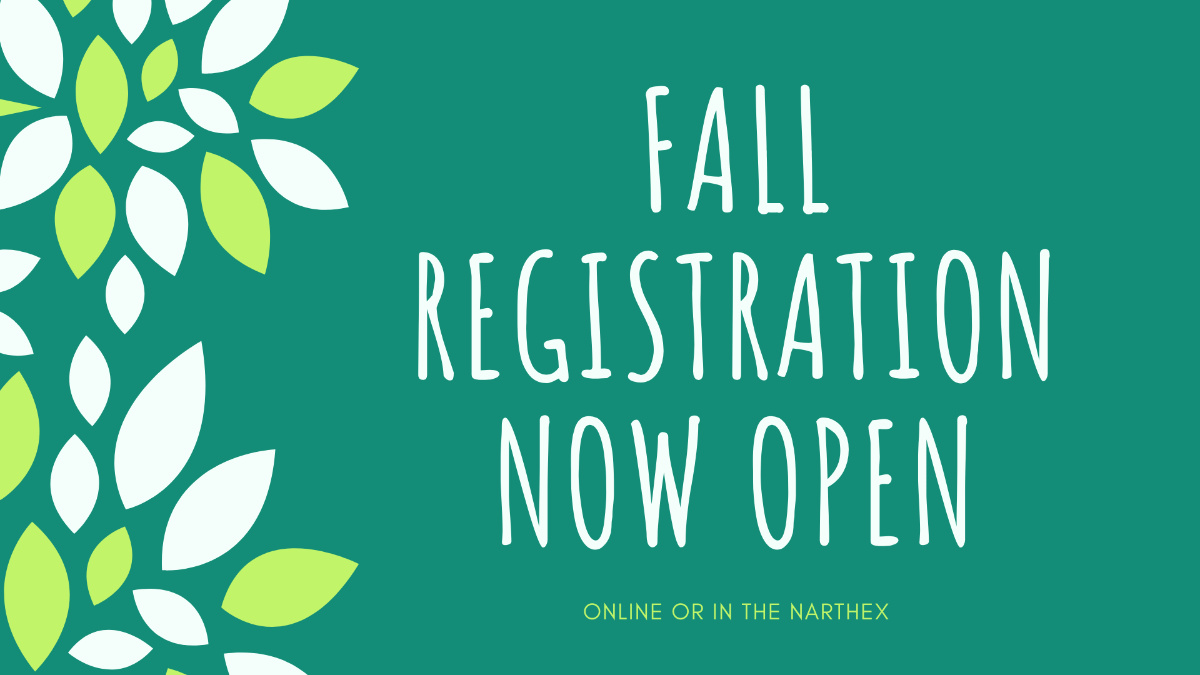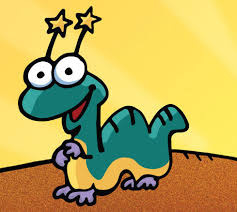 Tiny Sparks
Birth–2 years
Sundays from 9–9:45 AM
You're never too young to start learning about God's love! This year we are offering an ECFE style class for children from birth through 2 years old. Activities in Tiny Sparks include a child-directed art activity, songs, stories and finger-plays, plus lots of fellowship and relationship building for parents.

There is no cost for this class. Come when you can and leave when you need to! Expecting parents are also welcome to join the class!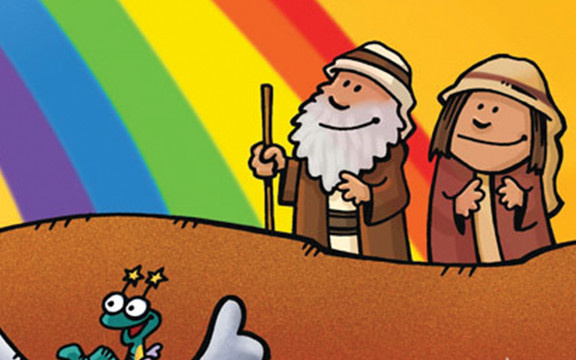 Sparks
3 years old–1st grade
Sundays from 9–9:45 AM
This class is for children from Pre-K through first grade and meets on Sundays from 9–9:45 in the Sunday school room. We use the Spark Sunday School Curriculum and each week the children read a bible story, sing songs, and do a project, game or other activity relating to the bible story. There is also a snack each week. Parents are asked to stay in the building.

Friends are always welcome! You do not need to be members to attend this class. There is a $10 registration fee which covers curriculum and art supplies. Scholarships are always available.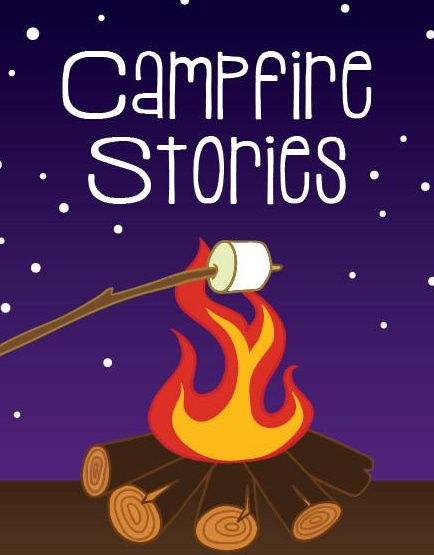 Kids Connection
2nd–6th grades
Wednesdays 6:30–7:30 PM
Let God's adventure begin! This year's theme is "Wilderness Adventure!" This is a bible camp style mid-week program where campers will learn stories you would hear around a campfire! Weather permitting, camp starts every week at "outpost" (the outdoor worship space) and moves into the "cabin" (the chapel).

This curriculum has weekly skits and lots of hands on and movement activities!

Students entering 2nd grade will receive a Spark Bible in the fall.

Friends are always welcome! You do not need to be members to attend this class. There is a $20 registration fee which covers curriculum and art supplies. Scholarships are always available.

Supper is offered every week beginning at 5:30 PM. The cost is $4 per person with a family maximum of $20 per week.

(During Lent there will not be Kids Connection. Families are encouraged to attend Soup Suppers from 5:45-6:45 PM and Lenten Worships at 7 PM.)
Click here to register for Tiny Sparks, Sparks and Kids Connection

Confirmation
S.W.A.G.
7th–9th grade
Wednesdays 6:30–8 PM

SWAG (Saved With Amazing Grace) is a 'traditional' confirmation class and teaches the core values and fundamentals of being Lutheran. It is specifically designed to meet the needs of teenagers who are starting to ask the 'tough questions' about God.
This year we are excited to be partnering with Gethsemane Lutheran Church in Maplewood for two retreats. The first is an "Urban Plunge" overnight at Augsburg University in Minneapolis. Students spend time in activities and exercises learning about hunger, homelessness and poverty as well as experiencing the amazing cultural diversity in South Minneapolis.
The second retreat is January 17th–18th at Green Lake Bible Camp in Spicer, MN. This is an annual retreat put on by the staff of Green Lake camp for several churches.
Both retreats are expected for confirmation students. Cost is $40 for the year. Scholarships are always available. Students are required to attend worship during Lent so there are no classes.

Peer Plus
Senior High
1st and 3rd Sundays at 4 PM

Pastor Dave will lead this group with help from several adults. Students and adult leaders will work to equip students with life tools and help them learn ways to live in their faith as senior high students.
Classes start on September 22, 2019. Snacks will be served weekly. There is no cost for this class. Friends are always welcome.
CLICK
BOX BELOW TO REGISTER FOR YOUTH MINISTRIES
Click here to register for Confirmation and Peer Plus

Come Alive
Sundays 9–9:45 AM

In the past this class has been known as "Sunday Morning Bible Study" and is taught by Chuck Puskas. This year we will be studying the Bible accounts of when and how God calls people for a task that needs to be done.

There is no registration fee for Come Alive and you do not need to preregister. All are welcome! Bring your Bible or use one of ours. Please e-mail Chuck Puskas at cpuskas@aol.com for more information.

Crossroads
Sunday Evenings
In Homes

This Bible study is an in-home Bible study and gathers groups of members/friends who meet monthly. This year Crossroads will be reading the book, "At the Crossroads: Leadership Lessons for All of Life" by Clayton L. Smith.
A "kick-off" meeting will be held on Sunday, September 8 at 11:30 AM, following worship.

There is no registration fee for Crossroads; however they are suggesting a $5-10 freewill donation.
Please e-mail Gayle Anderson glanderson06@gmail.com or Chuck Puskas at cpuskas@aol.com for more information.
All are welcome!
Living the Message
Wednesdays* 6:30–8 PM

Living the Message is a new, all-congregation, Bible class to make Bible discovery accessible, welcoming and life-giving. This class is taught by Pastor Dave. Participants will work their way through the Old Testament mainly using teacher presentation and some small group discussion.

Outside of class weekly assignments for reading from the bible are a part of the experience.
There is a $20 registration fee for Living the Message. Scholarships are always available. You do not need to be a member of Living Waters to participate.

Please e-mail pastor Dave for more information at pastor@livingwaterslutheran.org
*Classes meet approximately 3 Wednesdays per month or 18 total sessions.
Men's Ministry: Come and See
2nd Saturday of the month at 8:30 AM (September–March)

All members/friends who are men are invited to this men's breakfast and bible study". Led by Chuck Puskas with breakfast prepared by Mitch Kuschke, this group meets to dig deeper into the bible once a month. This year they will be studying together, the witness to Christ in the Gospel of John.

There is no registration or fee for Come and See. A freewill offering is taken to offset the cost of food. Friends are always welcome!
Click here to register for Adult Ministries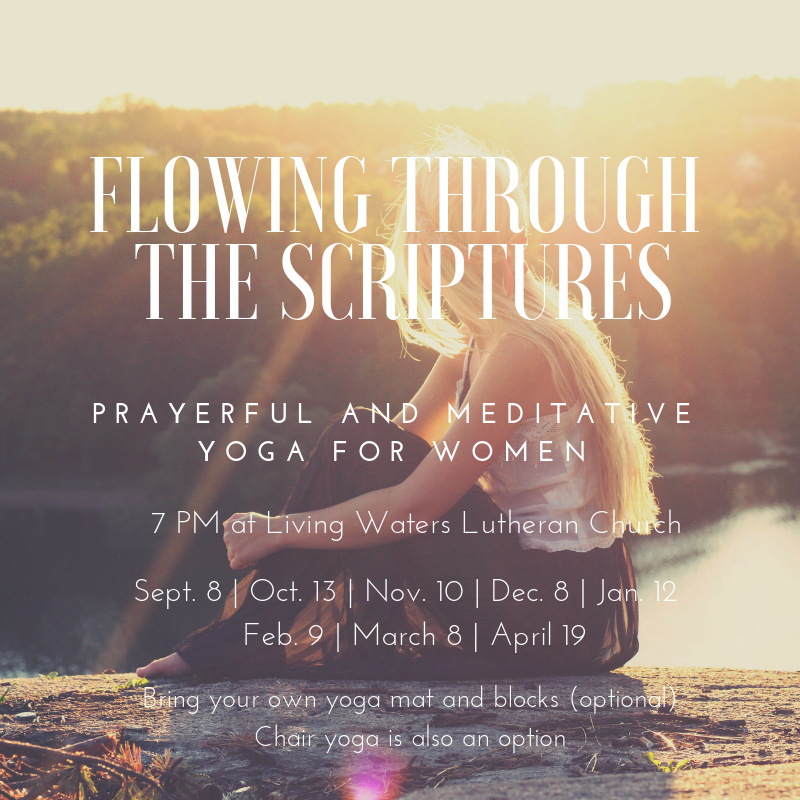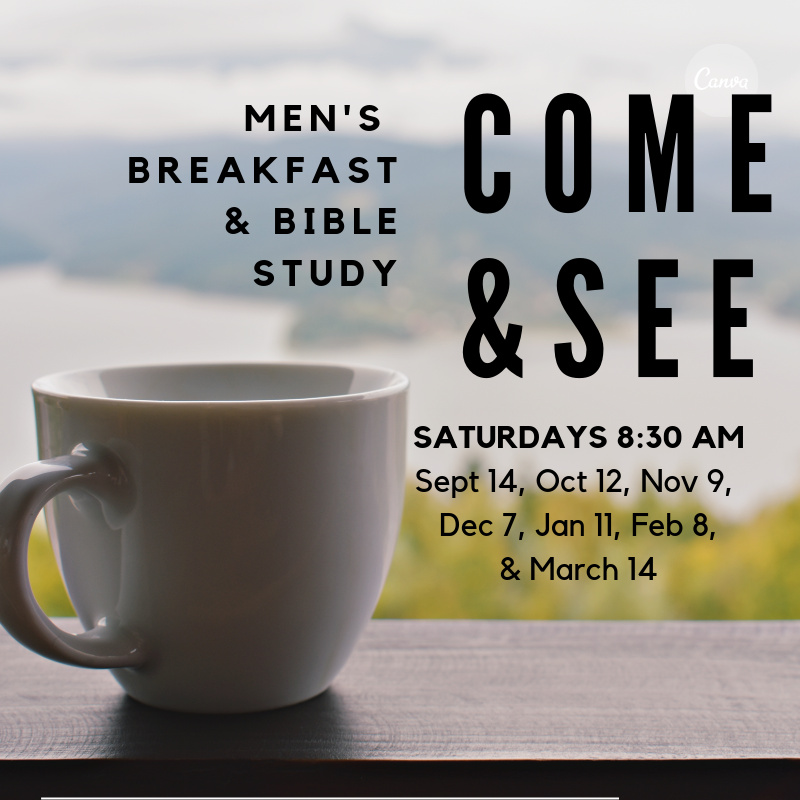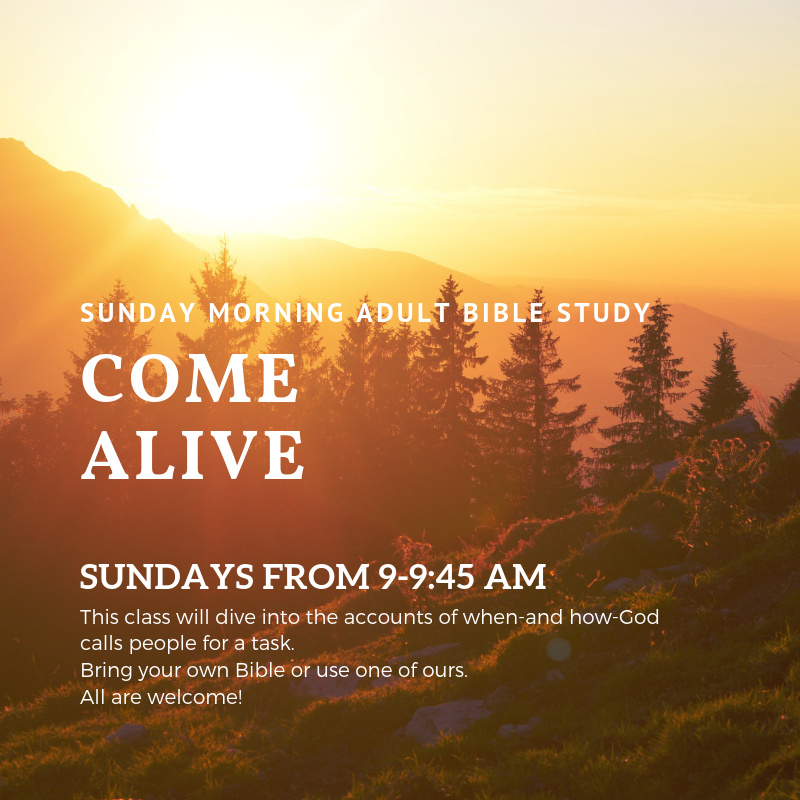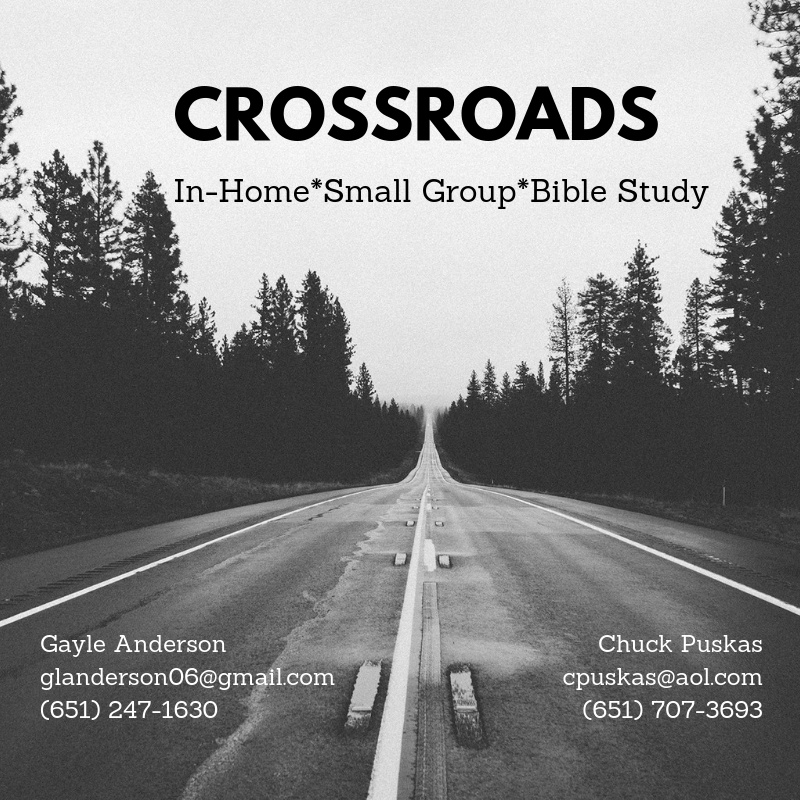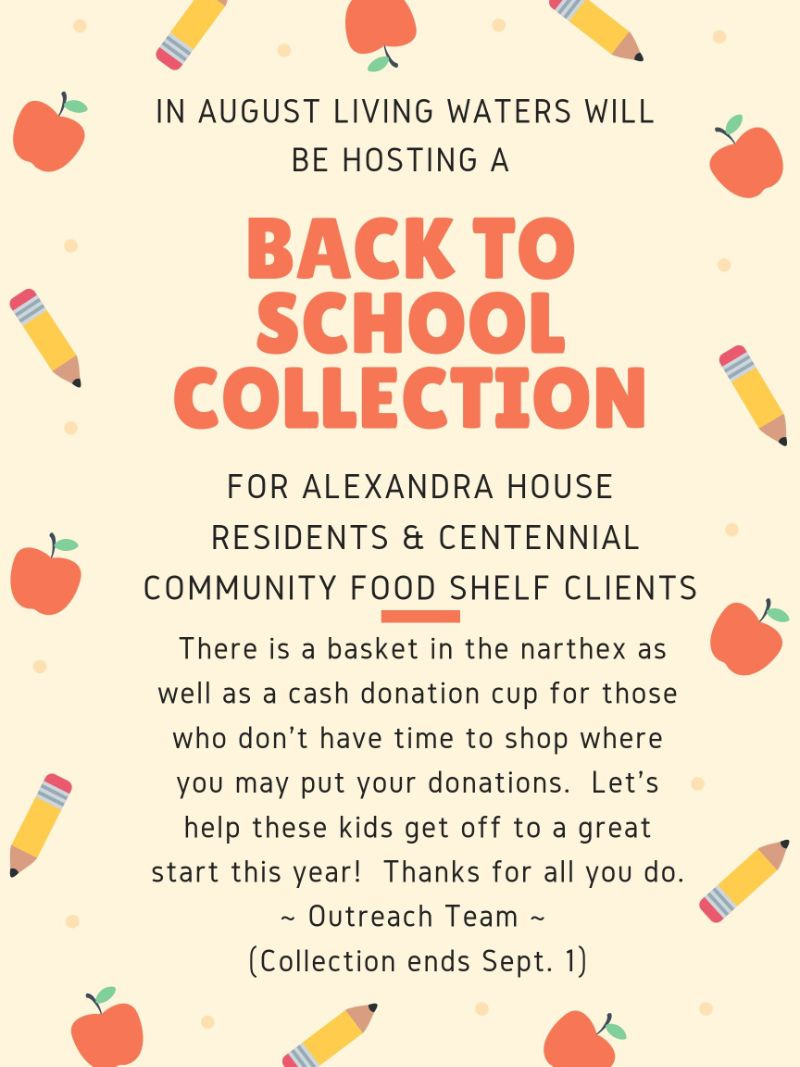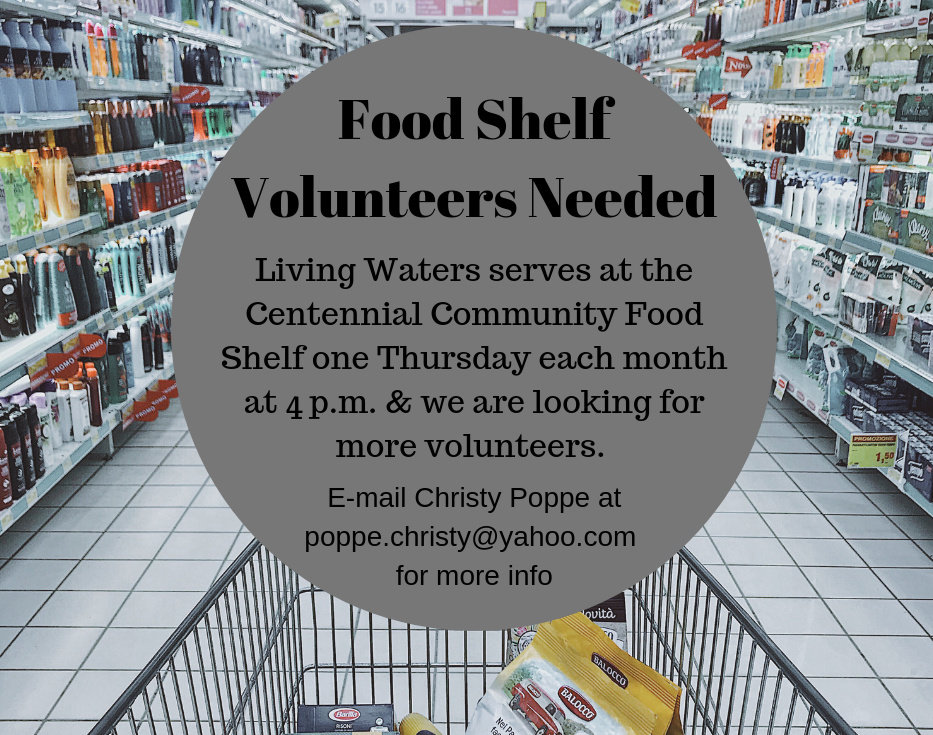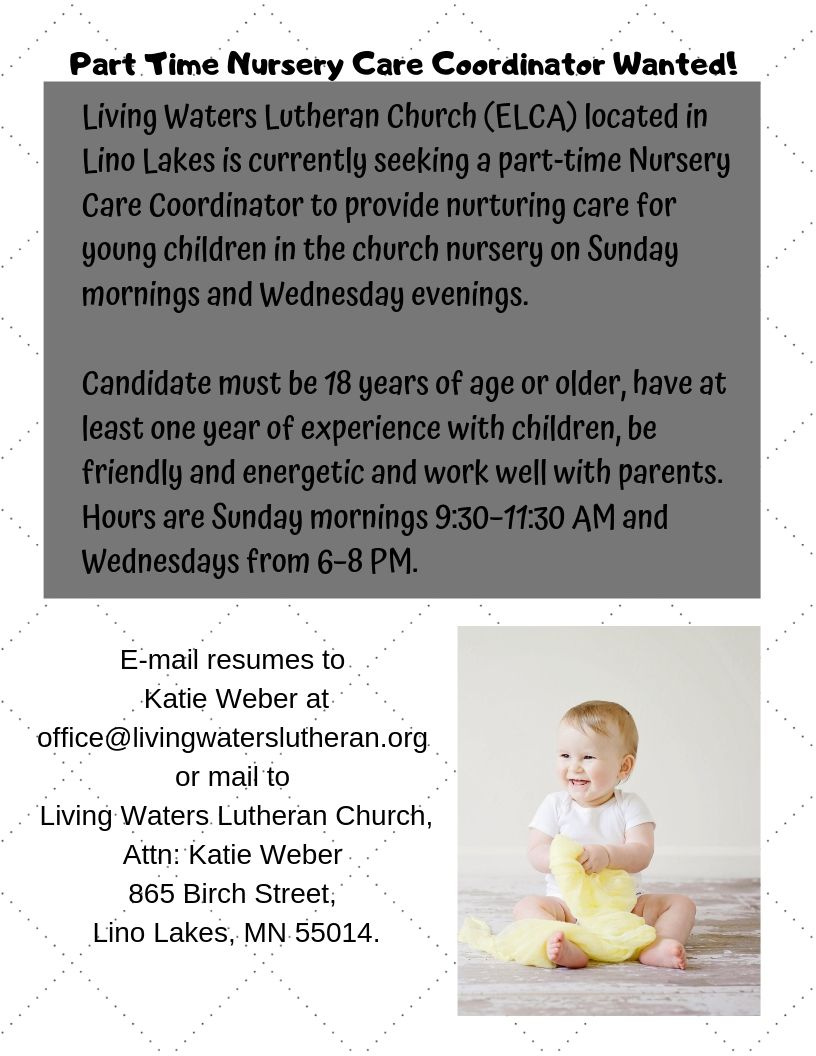 Those who are grieving..
The Wolfe Family who are grieving the loss of Janelle August 14th.
Those recovering from various medical situations...
Baby Evelyn Fahey (friends of the Brauns), born with multiple medical issues and concerns.
Robert Carlson (Karen Wind's dad), bypass surgery
Monica Kasmisrki, (Julie Kasmirski's sister in law) lung surgery
Lona Lyden, who is receiving medical treatment for ongoing health issues.
John Gustafson, arterial blockage in his leg.
Those receiving Hospice care..
Jean Quesnel, (Katie Weber's Grandma)
Those recovering from cancer...
Dorothy Blume (Earl Faehn's sister) lung and brain cancer
Christy Poppe,breast cancer
Danielle Holvig (ABC Preschool mom), breast cancer
Steve Casperson (friend of Pr. Dave), luekemia
Rebecca Bodnarczuk, colon cancer
Linnea Miskowiec, breast cancer and complications from blood thinners
Elsa Keeler (Britta Manning's cousin), bone cancer
Those in addiction recovery...
Emily, Mark, Joe, Cody and Bart.
Living Waters Community
Bryant Kumlin & Eric Gustafson who are studying at Luther Seminary
Thanksgiving for...
Patsy Madzey (Carol Kerkhoff's sister in-law) for a complete recovery from cancer! A recent scan showed she is cancer free!
If you would like to be added to the Prayer Team list, please do one of the following: Fill out a prayer slip found in your pew backs and leave it in baskets located in the Sanctuary, or the church office, or drop it in the offering plate. You can also e-mail Pastor Dave at: revw2@msn.com; or Katie Weber at office@livingwaterslutheran.org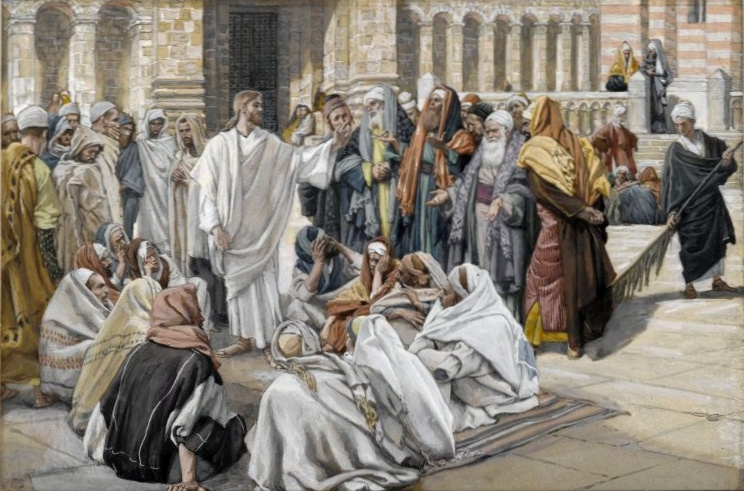 "The God of Fire"
Rev. David Wrightsman
Music:
Sound Waves
Bart Puskas
PJ and Ryan Kolu
Oliver Herrera

Acolyte:
Luke Flaschberger

Ushers:
The Flaschberger Family

Greeters:
Earl and Vicki Faehn

Sound Board:
Mark Braun
Lector:
Karen Wind

Communion Assistants:
Jackie Braun
Vicki Faehn
Tara Hjelmberg

Basket Holders:
Ruben Williams

Treats Provided By:
Toni Christensen

Counters
Jacie Braun
Mike Manning

Guenzel Family for the hearing assistance devices!
Ted Erkenbrack for installing the new audio device for hearing aids.
Jennifer Flaschberger for putting the bulletin together!
Gayle and Kris Anderson for helping coordinate the Wolfe Memorial Service.
All the volunteers who are helping with the Wolfe Memorial Service.
Gayle Anderson, Kris Anderson, Jim Danhoff, Deb, Michael and Katie Weber, Steve and Moni Slatten, Eric Gustafson, and Pastor Dave for the help with the gardens!

August 25



Worship: 10 AM
New Member/Baptismal Class: 11:30 AM
Eagle Scout Ceremony: 12–5 PM

August 26

Scouts: 7 PM

August 30

Office Closed

September 1

Worship: 10 AM

September 2
Office Closed–Labor Day

CLICK HERE for Amazon Wish List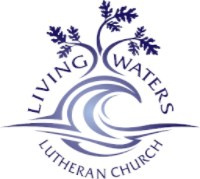 Rev. David Wrightsman, Interim Senior Pastor
Eric Gustafson, Seminarian
Katie Weber, Communications Director
Kris Olson, Music Director
Amy Kuehl, Bookkeeper
Children's Ministry Director, Open Position
Nursery Care Coordinator, Open Position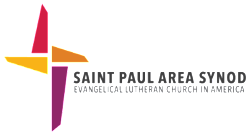 News from around the Synod
The Saint Paul Area Synod blog is updated regularly with stories about the many & varied ministries in this synod.



Copyright © 2019 Living Waters Lutheran Church, All rights reserved.
You are receiving this email because you chose to receive electronic updates of announcements and upcoming church events at Living Waters Lutheran Church.

Our mailing address is:
Living Waters Lutheran Church
865 Birch Street
Lino Lakes, MN 55014


unsubscribe from this list update subscription preferences